Problem: Needing a place that I can both send files, documents and instant messages amongst my team - both on-premise and off-premise.
Solution: Microsoft Teams 'Chat' feature
As we mentioned previously, Microsoft is one of the most successful companies worldwide. This success has only grown since the outbreak of Covid-19 and the sudden rise in popularity of Microsoft Teams. Teams allowed many businesses to continue trading during one of the most uncertain times for businesses in human history.
Microsoft Teams has many features that can assist you in connecting your team and enhancing their levels of productivity - one of which is the 'Chat' feature.
The Chat feature in Microsoft Teams
Chat gives you contact to your team from anywhere on the globe with an internet connection. I know that sounds like any other messaging app on the market, but Chat has some key differences - one of which is the ability to attach files directly from OneDrive, which allows for problem-free amending of the document.
How to attach files directly from OneDrive
1. First find the Chat option in the top left of your screen and click it.



2. Pick your recipient, then click the paperclip below the message box.



3. You then simply pick which option you want out of the two presented and you've done it.


Having the option to have light conversation alongside the secure handover of documents is great for productivity and is easy to do for the individuals less confident around IT.
Another feature of Microsoft Teams worth a mention is the 'Activity Feed'. It gives you the freedom to view every place a certain recipient has posted within Teams - allowing you to have ultimate power over what your employees get up to during their day. Or, on a less all-powerful note – it gives you the chance to track something down you may have misplaced.
How to use the 'Activity Feed'
1. First select the person whose activities you want to check.
2. At the top of the screen, you have the options - Chat, Files, Organisation and Activity. Click Activity.



3. Click on Activity. A list will follow of all the places they have shared something on Teams.
The Activity feed allows you to use your time more productively and also lets your employees know that there are ways of seeing what they are up to.
Another feature in Microsoft Teams to look at is the 'Add a tab' option. This gives you easier access to selected files by adding a tab to your dashboard. Let's take a look at how to use the 'Add a tab' option.
How to use the 'Add a tab' feature
1. Choose the recipient you wish to add a tab to the conversation with.
2. Go to the top of the screen and next to Chat, Files, Organisation and Activity is a + (plus) sign. Click the +.



3. You are presented with multiple options to choose from as to which tab you want to add to your dashboard (Word, Excel, PowerPoint, etc). Click to select.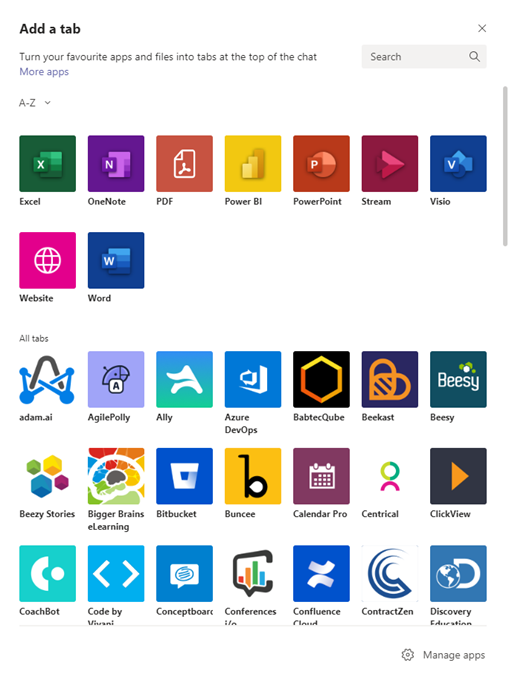 Using these lesser-known tools can ensure that you and your team are using Microsoft Teams to its full potential. If used correctly you will wonder how you managed to work effectively without the help of Teams.
Your business computing partner - BCNS
Tired of dealing with IT people who aren't proactive or responsive? Is your performance impacted by downtime and other issues? You need BCNS! We at BCNS offer a wide range of managed IT service plans catered to fit your needs whatever your budget, we utilise cutting edge technology to improve the efficiency of your organisation. Contact us now to see how we can help you take your business into the future with technology as a trusted ally.